It can be safely said, after all these recent Google updates, that Google is no more interested in websites that are bombarded with thousands of backlinks. It is now looking for websites with high quality content with useful resources for their search users.
Past Scenario?
In the past, the quality website owners/bloggers were creating extremely high quality content and were actually trying to help their target market. However, despite that, most were getting less visitors when compared to a less informative site with plenty of backlinks built towards it. Backlinks were the primary factor for Google deciding which web page should be ranked higher than the others. For search engines, mainly Google, the site`s content was not as important as the popularity of the site; with backlinks usually being the indicators used by Google to determine the popularity and authority of any website. This was an unfortunate state of affairs.
However,  things have changed recently; websites that had thousands of backlinks to them and were dominating their niches for years, have been penalised by Google in recent updates. And now only quality websites with intelligent and user friendly content are climbing up the ladder of Google`s rankings.
Primary Factors of 2013 SEO?
So, since massive backlinks are fastly going out of fashion, what is it, that actually plays a significant role in modern SEO? The answer is "On Page SEO". A strong, user friendly and natural On Page SEO can make your website rank higher in the SERPs without many backlinks built for them. With a few hundred backlinks you can easily beat a website with thousands of backlinks . Although content is the main part of On Page SEO, there are other factors as well that you simply cannot ignore.
This strategic guide will provide you with a tried and tested method of performing Fool Proof On page SEO on any website to make it rank top of Google.
Four Important SEO Factors in 2013:
Few High Authority Backlinks (the word "Few" is critical here)
Strong On Page SEO
Unique and informative content
Clean and fast loading web design.
I usually break down the whole process of my On Page SEO into the following steps.
Keyword Selection
Deep Internal Linking
Site Tags Optimisation
Content Optimisation
Web Design for SEO.
So let's get the ball rolling and describe each one step by step.
Keyword Selection
I am sure you already know that Keyword Selection is the backbone of any SEO campaign; hence, you need to learn it thoroughly and practice it to ensure that you get the maximum benefits from this On Page SEO guide. Different people use different methods of selecting keywords for their websites. Here I am going to describe the exact method of Keyword selection, through which I have ranked hundreds of our clients on the first page of Google in 2013.
The basic rule I follow here is two keywords per page. This not only help search bots determine the theme of your page, but makes your website much more user-friendly as well.
Buying Keywords:
Always focus on your business/buying keywords that not only bring visitors, but targeted visitors. Most of the times, highly targeted keywords are long tail keywords with much lesser search traffic. E.g., "Single Serve Coffee Machines"  which is more targeted and convertible than "Coffee Machines".
Keywords that are growing:
While performing your keyword research, it is essential that you make good use of Google Trends as well (www.google.com/trends) to determine whether the keyword has increased or decreased its popularity in the last few months/years.
Exact vs. Broad Search:
Most of the people use Google Keyword Tool (soon to be replaced by keyword planner) for keyword research, but the majority of people make a mistake of not checking the "Exact" box. These results in them select the wrong keywords. Selecting the keywords based on their exact number of searches will ensure that your estimated traffic is as accurate as possible for that particular keyword.
Deep Internal Linking
Gone are the days when we used to have tons of links to our inner pages within the footer or sidebar. The new On Page strategy requires you to build these internal links from within the content of pages for maximum rankings boost. In-Content links are regarded extremely high by  Google, no matter if they are from external sources or from within the site itself. This very time consuming task requires a great deal of planning and analysis. However, the bottom line is that if you interlink your pages from within the page content (even if the linking is random) then all of your pages will get an immense boost in SERPs.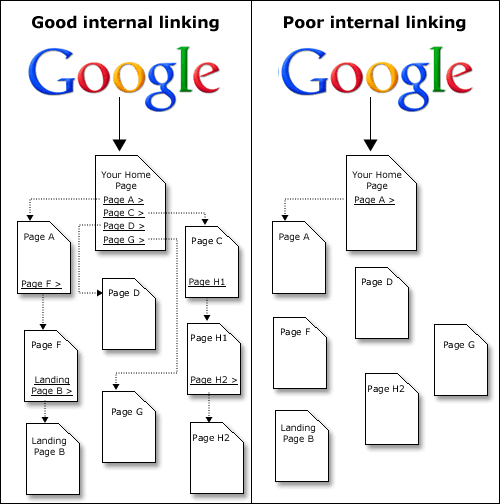 If you have the website built on WordPress you can get a few plugins that will generate internal linking within your pages automatically. If you are using some other platform, CMS or a static website, you might need to do it manually but the end result is totally worth it.
Site Tags Optimisation
In this section of this guide, I will be discussing some of the most important tags that you just can't afford to miss out if you are looking to perform a foolproof On Page SEO on any website in 2013.
Page Titles
Page Titles or Meta Title Tag has been the most important factor of On Page SEO; it can either make or break your whole SEO campaign. The title tag is inserted inside the head section of the webpage inside the title tag <title></title>. A good title tag should contain at least two of your main keywords and should not exceed the 70 character limit. Here is an example;
<title>Keyword One – Keyword Two – Branding Keyword</title>.
A branding keyword is a keyword that carries the name of your brand.
Ignore Meta Keywords
Meta keywords used to have a significant value in the past. I use to add keywords in the Meta keywords tag which gave a good amount of points towards boosting rankings. This tag has now been made obsolete and using it is no more recommended in modern SEO. Some sites and many webmaster still choose to add this, but I personally don't think it carries much weight points any longer.
Page Names
Most people tend to ignore this as well, but the fact is inserting your keywords within the page name can do wonders to your website`s rankings in SERPs. Hence if you have a page for dog training service, instead of naming it "services.html", name it "dog-training.html" to gain the maximum advantage.
Meta Descriptions
This can and should not be taken slightly. Always write unique and informative Meta descriptions for each page on your website. A good mete description should not exceed the 140 characters limit and adding your main keyword inside meta descriptions can help improve your rankings significantly. However, avoid stuffing the meta descriptions with your keywords only. Meta Descriptions are the snippet that searchers view before clicking your link on Google, so ensure that you write a catchy description to entice maximum clicks. For example;
Brand keyword stocks the widest range of keyword one. Buy from us today and save 25% of your entire first order with free delivery
All Important Headings
People have almost forgotten the significance of heading tags, commonly known as H1, H2, H3 tags. These tags are used to display catchy headings on your webpage. Since Google uses these to determine the topic of the page, adding your main keyword can help towards boosting your rankings. It is advisable to use H1 tags for the main keyword and other tags to define other keywords and tiles on the pages you want to draw prominence too.
URL Structure
Though most of the modern CMS come built-in with the feature of search engine friendly URLs, it is your duty to check and ensure that your website has search engine friendly URLs.
A Bad URL – http://news.sky.com/skynews/article/0,,30200-1303092,00.html
A Good URL – http://news.sky.com/skynews/article/Elections-Results-2013.html
ALT Tags
ALT Tags have become increasingly important in the last 2-3 years. If you haven't heard of these before, it is the text associated with an image which gives the same essential information as the image. It is particularly useful when an image is not available without losing any information or functionality. However, any temptation to over stuff your image ALT tags will mean you run the risk of getting your site penalised, so my advice is to only add them where relevant.
Rich Snippets
Rich Snippets are the latest addition in the field of SEO. They are still under-utilised, hence it is highly recommended to use them as doing so will allow you to beat your competitors easily. How and when to use these rich snippets and structured markup data is out of the scope of this guide, but I would highly recommend you go through the following resources to learn more about this method and take the edge in SEO:
A whole list of rich snippets can also be found at the official website – http://schema.org/

Content Optimisation
This part of the guide would discuss about creating relevant and informative pages of content on your website to feed the website users and not focus on Google bot. Content pages are undoubtedly the meat of any website; they are what Google is looking for. And if you produce a quality content, people generally share contents they have found to be worth sharing. This is what Google is preaching.
Let us first discuss the compulsory pages that are required on your website.
About Page
Contact Page
Subscribe Page
Other relevant pages depending on your type of website, e.g. FAQs, Payment Methods, Privacy Policy, are required.
Number of Words per Page:
This is an interesting issue to consider: The general myth is that your content needs to be at least 500+ words to rank higher on SERPs. Believe me, this is just a myth. I have ranked hundreds of pages on the first page of Google with as low as 200-300 words text content. The number of words is not the criteria of how good the content is. Google wants quality content not lengthy content. Yes, search engine bots want to see optimised content revolving around the main theme of the website, but it has nothing to do with the size of articles. So instead of worrying about the words, focus on the quality of the words. And if you can deliver the message to your reader in 200 words then don't waste both yours and your readers'  time by  dragging the topic on just to complete the 500 word count.
Keyword Frequency/Density/Prominence?
Keyword density or frequency is the percentage at which a keyword appears inside content. Google uses keyword density to determine whether a page is relevant to any particular keyword. Unlike the number of words, this is not a myth and it does help Google sort the better websites out and rank them higher in SERPs.
A couple of  years ago I used to have a keyword density of 3-5%, and it was considered the standard count. However, now that higher keyword density can trigger the over-optimisation penalty, I have taken a more subtle approach and don't let the keyword density in most of the pages to exceed 1-2%.  It is critical to ensure that the keywords appear naturally throughout your content, which makes the content natural and readable for users.
Bold, Italics and Question Marks?
Bold and Italic text can have some effect on modern SEO, just as they have in normal English writing. Following few points are important to keep in mind though:
Avoid using Bold and Italic together in one sentence, it will confuse both the readers and bots as well.
Keep the format uniform. E.g. if you have bold one heading, make all others bold as well.
Don't use <strong> tag to bold the text, use <b> instead.
Don`t over-do the formatting.
Outbound Links:
This may come as a surprise to you, but the following is a fact. Having high quality external links can make your website appear as an authority in the eyes of Google. Therefore, it is advisable to have at maybe one external link from each page to relevant authority website. You can select the website to link to by either of the two criteria:
Domain Authority
Ranking for relevant keywords.
Duplicate Content:
I bet you must have come across this term of "Duplicate Content" many times in the past. This is a very important aspect to pay close attention to and spend some time in making your website`s content 100% unique. Duplicate content has no place in modern SEO; if you are copying content from any other website then the chances of long lasting SEO results are minimal.
Please keep in mind that many believe they can simply re-write someone else`s content and use this on their own website. It is not as simple as this. Even re-phrasing or re-wording a word or two here and there will not do you any good. Google is smart enough now to spot such shortcuts and as a result it considers the number of words, number of paras, and a whole lot other stuff to check whether the content is unique or just a re-hashed version of some content already available on the internet. Sometimes the content that passes copyscape can also get the duplicate penalty. Hence the only way to stay safe here is to write the content by your own after thorough research on the topic.
Web Design for SEO
Site Load Time:
You should understand the fact that for Google and other search engines, the user experience is the most important thing. You should not expect your readers to wait until your website loads up completely. Similarly, you should not expect Google to rank you higher if it is taking your website too long to load up.
Avg. Time on Site is the primary factor that Google considers to decide which website should be ranked on the first page of Google. A slow loading website can never keep the visitors for a longer period.
Tools.pingdom.com is the primary website that the majority of webmasters and SEOs use to check the loading time on their website. Other popular tools include iWebTool, Webpagetest.org and google's own pagespeed insight.
Flash – Do or Don't?
Flash has been around for quite some time. For years designers used Flash to design/develop interactive web designs. However, now Flash is avoided because of the fact that designers and webmasters have become more educated with respect to SEO. Modern technologies like Silver light and jQuery should now be used instead of Flash. In a nutshell, any technology which slows the website down I strongly recommended you avoid.
Concluding Remarks
This guide outlines some of the most important factors of On-Page SEO, but this is by far not a complete guide but highlights the headlines. One thing is for sure that SEO has changed completely in recent few years, On Page is no different, and in order to cope up with this ever-changing industry, you have to refine and re-tune your SEO strategy to keep ranking on top of Google. Otherwise, you might end up being penalised eventually.
If you feel I might have missed out an important point or two, please drop me an email in the comment section.